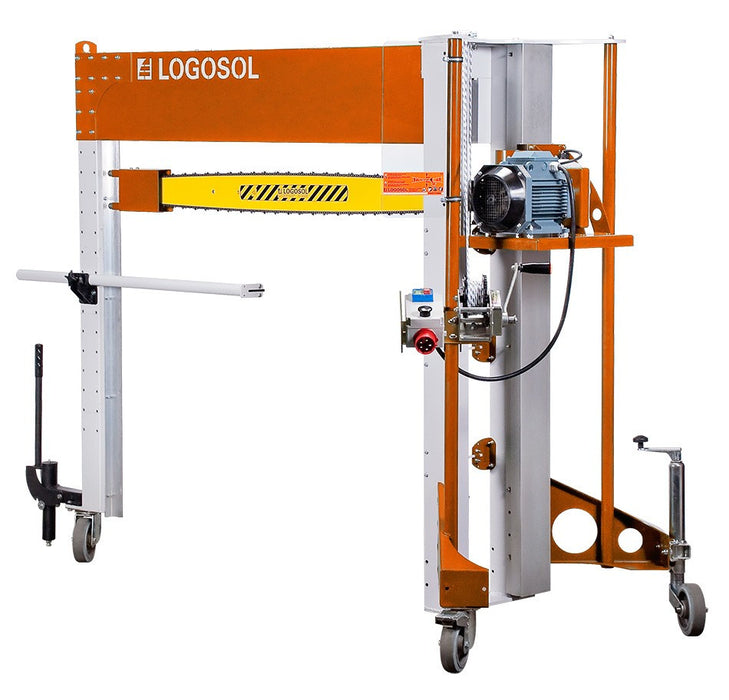 Logosol Stack Cutter PK1500
Cut board stacks cost-effectively - with impressive precision.
The stack cutter cross-cuts board stacks with great accuracy. The 150 cm, 135 cm or 120 cm (59", 53" or 47") long guide bar is steered by the bar nose holder. The chain is a standard 3/8" cross-cut chain driven by our powerful 5 kW (7 hp), 3-phase electric motor E5000. In line with Logosol's philosophy, we have examined a function that earlier cost a fortune to accomplish, and produced a smaller and lighter solution. In this case a stack cutter that takes the cut linearly vertically, a feature that normally only is found in larger industrial machines. The advantages of cutting linearly is that the capacity significantly increases both as regards sawing speed and the size of the board stack. Logosol's stack cutter has a relatively low weight since it is mainly made of aluminium. Three large wheels make it easy to move the machine by hand. One of the wheels is adjustable in height, and with the help of fixed sigths the cut can be aligned. With the stack cutter comes a 2 m (6 ft 7") long measuring rod, which is a good means of measuring the length of the stack.
Cut time
Why spending time cutting the boards one by one? With Logosol's stack cutter you cut the entire board stack at once. Just adjust it to the desired length and then let the stack cutter do the job, quickly and efficiently. What used to take a whole day can now be done in half an hour; what used to take an entire week you can accomplish in half a day. It is easy, it is fun and you can spare time for doing other things.
Cut costs
If you regularly cut large amounts of lumber into length, the easiest way is to do it with a stack cutter. It saves time. You are also spared from monotonous tasks that strain your body. Logosol's mobile stack cutter does not take up a great deal of room, and by quickly cutting the stacks so that they are more easy to handle, you will save even more space. As Logosol's stack cutter is such a small investment, it will be profitable already when cutting small volumes 
Cut accurately
With Logosol's stack cutter you can cut your board stacks with an accuracy down to +/- 2 mm (1/16"). This is due to our portal technique, where the guide bar is fitted at both ends. The accuracy is significantly better than comparable stack cutters that have turnable guide bars, i.e. radial cutting. 
Simple installation
There is no need for a special installation. The stack cutter is ready for use on delivery. Thanks to the low weight, it is easy to roll in place over the stack to be cut. The stack does not have to lie completely level as the stack cutter can be adjusted to the correct angle. Line up the cut, set the stack cutter, push the start button and let the guide bar sink down through the boards.
---
Technical data
Working measurements
Maximum board stack for Stack Cutter 1500: 
Max. width:  1450 mm (57")
Max. height:  1450 mm (57")
Dimensions
Stack Cutter outer measurements.
Length:  2600 mm (102")
Width:  1100 mm (43")
Height:  1900 mm (75")
Electrical system and motor
The electric motor is a, specially wound, motor with a rated output of 5kW (7 hp). While cutting, the motor load is 7-8 kW. It is protected by a temperature sensor. 
Total continous output: 5 kW (7 hp)
Electricity supply: 3-Phase, 400 V, 16 A
Also available as 3-phase, 220 V, 30 A
Insulation class: IP54
This insulation class means that the motor and the entire electrical system are unaffected by sprinkling water, thus capable of standing outdoors in the rain.
Sound level and ergonomics
The Stack Cutter 1500 is designed to provide the user with the best possible working conditions. The controls are positioned at work height and a Plexiglas sheet protects the operator against any flying chips. The sound level requires hearing protection.
Acoustic pressure: 102,0 dB (A) 
Acoustic power: 113,0 db (A) 
Vibrations in the controls: Very slight
Cutting equipment
Logosol has a deep experience with different cutting machines and have chosen a standard 3/8" cross-cutting chain for the Stack Cutter. 
Chain pitch: 3/8"  
Chain speed: 22,5 m/s (78 ft/s)
Chip handling
The Stack Cutter works perfectly well without any sawdust transport equipment. However, since this will create considerable quantities of sawdust on the work site, a chip and sawdust extractor is recommended.
A simple accessory chip and sawdust extractor for the Stack Cutter 1500 is available to be fitted on the Stack Cutter support legs. Connecting the Stack Cutter to existing chip and sawdust evacuation systems works equally well.
Sawdust outlet (connection for flexi-hose): 100 mm (3 15/16")
Min. chip extractor capacity needed: 700 m3/h (24500 cubic ft per hour)
Click on the Following video to see how the Stack cutter works and its applications
Video 1  Introduction
Video 2  Preparing the Stack
Video 3  Cutting the Stack
Video 4  Disassembling Guide Bar and Chain
Video 5  Sharpening
Video 6  Assembling Guide Bar and Chain
Follow this Link to the Logosol Website
Video 7  Aplications