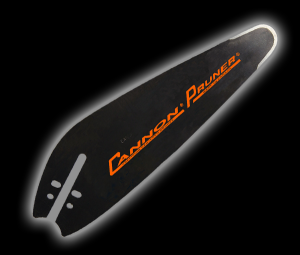 Cannon 12 inch Pruner Bar C1 Mount, 12 Inches, .050 Gauge (0.250 Pitch = 61 Drive Links, 0.325 Pitch = 47 Drive Links, 0.375/0.370 Pitch (Low Profile) = 42 Drive Links)
Cannon 12 inch Pruner Bar C1 Mount, 12 Inches, .050 Gauge (0.250 Pitch = 61 Drive Links, 0.325 Pitch = 47 Drive Links, 0.375/0.370 Pitch (Low Profile) = 42 Drive Links)
Product Highlights
Available in 10″ and 12″ lengths
For use with pole saws
Precision squared and flame hardened rails for a long lasting bar
Available in standard .050 gauge
Precision ground groove
The Cannon Pruner Bar is skillfully handcrafted and put through rigorous quality assurance checks prior to packaging.
These bars are constructed with custom alloy steel that is cold rolled, heat treated, annealed, stress relieved and surface ground. This provides the best possible characteristics of wear resistance, strength, durability, straightness and elasticity.
Precision squared and flame hardened/work hardened rails allow for chain to run straight and true enhancing the speed and smoothness of cut. An individually centered precision ground groove allows for even rail wear, increased rail strength and also reduces damage caused by pinches.