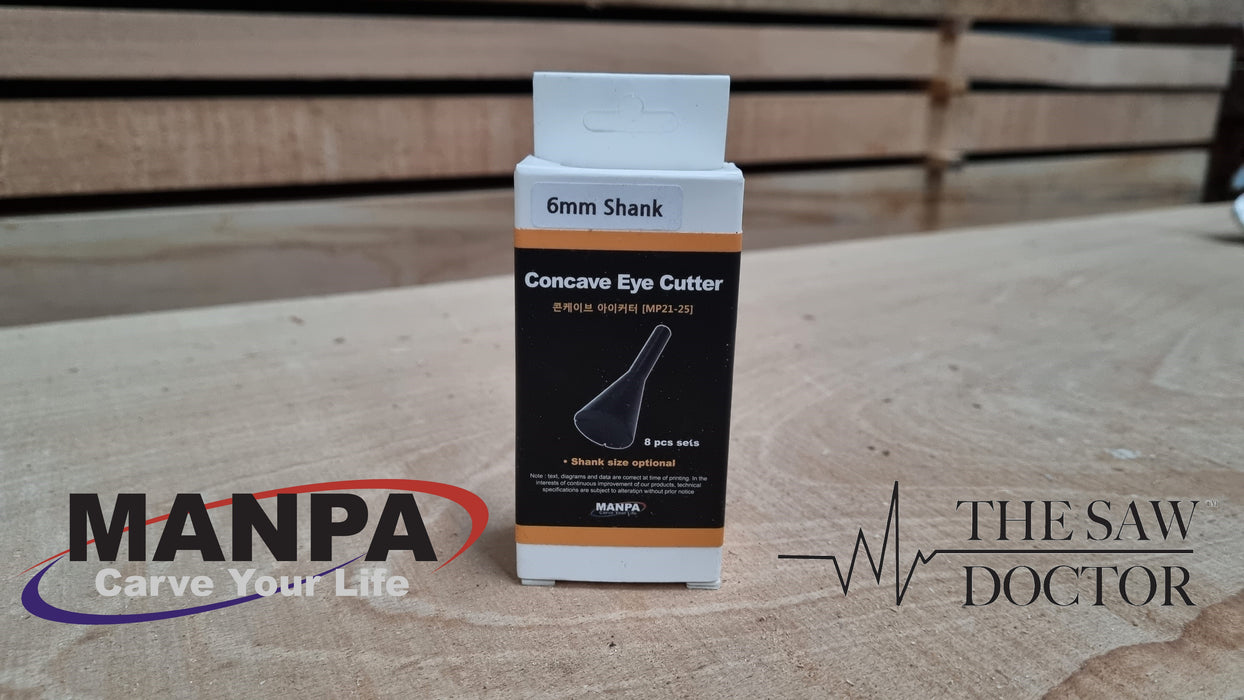 Concave Eye Cutter (Set) MP21-25 (8 Sets)
Concave Eye Cutter - 8 pcs

​Includes :

8 Pcs of Concave Eye Cutter.

Features :

• Eye features on Bear, Owl and Human etc.

• Textures on wood turner or bowl etc.

​*Check your Shank Size.
TECHNICAL SPECIFICATIONS
• Model : MP21-25 (8 Sets)
​​• Max. RPM : 25,000 rpm
​• Power : 90 - 750 Watt
​• Weight : 1.0 Kg

• Concave Size :
- 1/8" Shank : 9.5mm, 7.2mm, 4.8mm
- 1/4" or 6mm Shank (option) : 25.40mm, 19.00mm, 15.90mm, 12.70mm, 9.5mm ​

• Concave Length :​ 54.00mm (1/4" and 6mm)
25.00mm (1/8")
Check your Shank Size & Collet
Die grinder or other tools are not included.
Please check your "Shank" of Collet.
​
Dremel or small hand piece grinder : 1/8" Shank
Die & Straight grinder : 1/4" Shank or 6mm Shank.
Usage and Safety Precautions
​
 - Please read and follow all safety instructions carefully. Please keep the manual for future reference.  

 -  When operating, always wear safety equipment such as face masks and safety goggles.

 - Always secure the workpiece securely when working.

 - Make sure that the grinder switch is off before plugging in the power cord.

 - Be careful not to touch the cutter blade. Serious injury may result.

 - Always operate the tool with both hands firmly gripped, and never leave the tool with rotation.

 - When using the tool, always use 220V without speed adjustment so that the speed does not fall below 11000RPM.

 - After operation, turn off the switch and set it down when The remaining rotation stops completely.

 - Please be sure to use it carefully because it may cause the rotation reaction(kick back) depending on the direction of rotation.

 - Please remove the stone, sand and other material beforehand to use. If not, you may get blade damage.

Maintenance and inspection

​- Inspect and tighten the bolts of each part before operation.
 
- After working, please keep clean so that there is no foreign matter such as dust, sawdust and rosin.
 
​- If the cutter blade or belt is worn out, replace it with a new one.

Quality display
​
- Manufacturer : MANPA corporation.

- Country of manufacture : Made in the Republic of korea.

- Address : Manpa corporation, 700-20 manseo-ro, Yangseong-myeon, Anseong-si, Gyeonggi-do