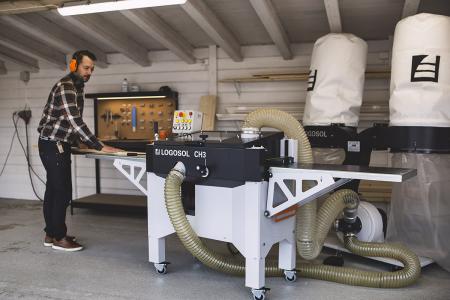 CH3 Multi-Head Planer "The world's most easy-to-use planer/moulder"
User-friendly high-quality multi-head planer for sawmill owners and carpentry shops
The Logosol CH3 Multi-Head Planer is the next-generation planer/moulder, developed and manufactured in Härnösand. The machine is designed to easily produce mouldings, panelling, round rods, and beams for fun projects when you want to renovate your home or build on the farm. This planer is based on 25 years of experience and is very easy to use and simple to own. With its robust and user-friendly design, you get a lot of machine for the money. In addition, it is profitable to produce your own mouldings and panelling, and you can quickly recoup your investment. Thanks to the fact that the CH3 multi-head planer is flexible and fun to use, it is a machine that really comes in handy.
3-sided machining (dimension planing)
Width: 25 to 220 mm
Height: 10 to 60 mm
Planing
Width: 220 mm (up to 300 mm when reconfigured)
Height: 10 to 70 mm
Supplied cutter heads
Type TB90, planing knives
Diameter, body: 90 mm
Height, body: 40 mm
Horizontal cutter
Diameter: 72 mm
Width: 300 mm
Power: 3 kW
Rotational speed: 7200 rpm
Take-off: max. 8 mm
Profile depth: max. 20 mm
Side cutters
Spindle diameter: 30 mm
Cutter height: max. 40 mm
Diameter: max. 140 mm
Power: 1.5 kW per cutter
Rotational speed: 3000 rpm
Profile depth: max. 20 mm
Cutting height: Up to 60 mm
Feed
Power: 0.3 kW Feed rate
Low speed mode: 3 m/min
High speed mode: 6 m/min
Electrical system
Moisture protection IP54
Total power: 6.3 kW
Electrical supply: 3-phase, 400V, 16A
Measurements and weight
Length: 1100 mm
Width: 720 mm
Height: 1115 mm (990 mm without the electrical box)
Weight: approx. 250 kg
Included with the CH3: Planing knives in all cutter heads, Toolbox, In- and out-feed tables, Setting block for planing knives, Spacers (Wheels are bought separate)
The world's most easy-to-use planer/moulder
When you look at the planer, you will immediately understand how to use it. You monitor the planing process through the big vision panel, and under the cover all features are easy to access and pedagogically placed and marked. You quickly and easily install cutting tools for both dimension planing and moulding.
A perfect result at once
The machine is tuned from the factory in Härnösand, which means that you are up and running in no time. Width and thickness are adjusted by sturdy cranks and clear scales. Unlike previous planers, the vertical position of the side cutters is precisely adjusted from the factory. You get a perfect result at once.
Choose from hundreds of standard profiles or design your own
In Logosol's tool catalogue there are hundreds of different standard profiles to choose from. You can also order your own design or reproduce old profiles, which can be of great value if you, for instance, want to renovate an old house.
This is a machine we look forward to delivering to many customers. It is affordable, extremely easy to use and you can quickly get started with producing your own mouldings and panelling for your building projects.
Sturdy, surface-treated machine tables
We have replaced the traditional cast-iron tables with thick, laser-cut and precision-machined steel plate that is coated to never rust. They are even heavier and more stable than previous tables. Furthermore, both the cutter heads and the shafts of the side cutters are rustproof to allow the planer to be used in unheated premises and even outdoors for shorter periods.
Adjustable speed
You can choose if the machine should feed the workpiece with a speed of 3 m/min or 6 m/min. To get the finest surface when moulding, you choose the lower speed. In cases where the surface finish is less important, when producing construction timber for instance, the higher speed is preferable.
Sturdy, adjustable feed rollers
The feed rollers are fully 40 mm in diameter and have specially designed grooves for powerful feeding and to prevent the workpiece from slipping. Depending on the sort of wood and the width of the workpiece, you should adjust the pressure of the rollers accordingly. With the CH3 this is easier than with our previous planers, since the adjusting bolts are easily accessible from inside of the machine.
We recommend!
It is usually easier to plane with a three-sided planer than a four-sided planer, and it takes marginally longer. If you, for example, want to produce tongue and groove with one unprocessed side using the CH3, you place the unprocessed side facing down and set the machine to the desired width and thickness for the finished product. Then you just get started. With a four-sided planer, you have to adjust the in-feed table by using metal plates to avoid any take-off by the bottom cutter.
Advantages
✔ Profitability from day one. You can produce a lot of timber on the very first day.
✔ You operate the machine in a comfortable working position; the machined timber comes out at waist level.
✔ More planer for your money! The chip extractor is also very affordable, and together they give you a complete solution at a great price.
✔ A wide selection of moulding knives, and you can easily order custom-made knives at a reasonable price.
✔ Perfect planing result! The high speed of the horizontal cutter and the ability to lower the feed rate when necessary, give you an unbeatable result no matter what wood you are planing.
✔ A planer for those who have high demands on user-friendliness. Clear scales for width and thickness. By using the supplied tool for installing moulding knives, you can see where on the top cutter the workpiece will begin to be machined and install the knives in exactly the right places. You can easily access all settings from above.
✔ Rustproof, which means that the machine can be used in unheated premises.
✔ Improved chip management with aerodynamically designed chip outlets.
✔ Generously sized feed rollers that are fully 40 mm in diameter with angled grooves for powerful feeding and to prevent the workpiece from slipping.
✔ Clear and simple settings. Under the cover with its big vision panel, you can easily access all settings, which are pedagogically placed and marked.
✔ Adjustable feeding speed. Choose between 3 m/min or 6 m/min.
✔ Heavier and more stable machine table of lase-cut and precision-machined steel plate which is heavier than traditional cast-iron tables and incredibly stable.
✔ Quick adjustment of the side fence. The side cutter fence is quickly and exactly adjusted by a lever.
✔ Faster top cutter. High rotational speed of the top cutter gives a better surface than previous planers.
✔ Separate motors give you the advantage of being able to start the cutters and the feed individually. If the workpiece stops in the machine, you can first start the cutters and then the feed.
✔ Adjust the feed roller pressure from above. It is much easier to adjust the feed roller pressure than it was with our previous planers.
✔ Dimension planing has many benefits! Moulding knife packages and lots of more moulding knives are available on our website.
✔ Big and grooved feed rollers and a rubber out-feed roller to protect the smooth-planed surface.
✔ Two-speed motor for the feed, with a knob to easily adjust the speed between "Tortoise" and "Hare" speed.
✔ Improved accessories, such as extension tables, extended jointer fence and extra feed rollers, allow you to adapt the machine to your requirements.
✔ Advantages with three cutter heads instead of four: Easy and quick to install knives. Good when using varying types of wood. Lower price.
Tip! Plane the width and thickness of the material to get the right dimensions before moulding it.
✔ All timber gets the same dimensions, and you can run it through the machine using the same settings. It takes about 15 minutes for 100 linear metres of timber, and this is time well spent.
✔ Groove the back at the same time! At the same time as you are dimension planing, you can make a groove on the back of the material when making panelling, for instance (on a panel the heartwood should be facing outwards).
✔ Save timber! When the timber is dimension planed, you can see if a board has the wrong dimensions and save it for another project. However, if you had profiled it first, it would probably have been unusable.
✔ Easy to install knives! Planing knives are always installed in the top horizontal cutter of the machine. When changing from moulding to dimension planing, you remove any moulding knives in the horizontal cutter and replace the moulding knives in the side cutters with planing knives."
✔ When dimension planing, the take-off is about 1-8 mm, and if you want to machine four sides, you need to leave about 1 mm for the second run.
✔ If you dimension plane the timber, it gets smooth and runs more exactly against the machine table and the fence when you are running it a second time for profiling. This usually makes the profiling more accurate.
More detail by clicking on the following link: