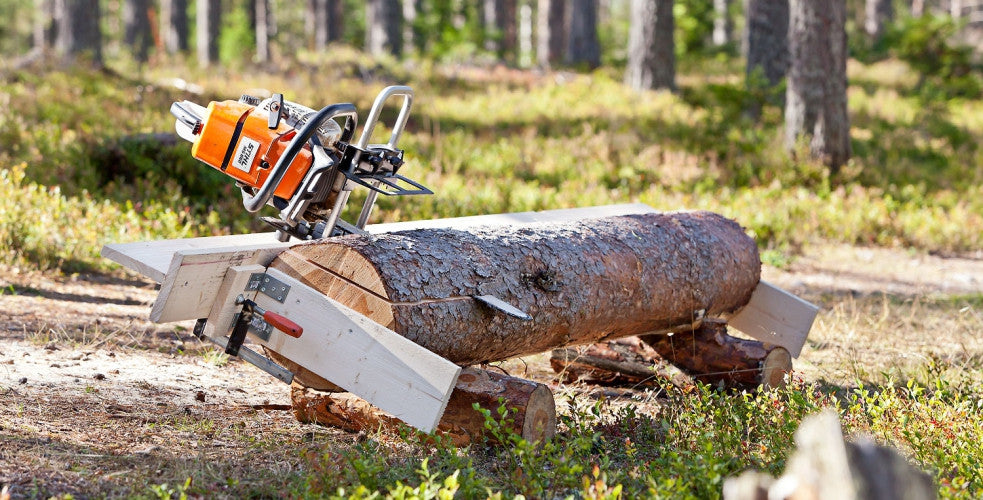 Big Mill TimberJig
The TimberJig is a patented hand-held sawmill of top quality. A versatile friend in your lumber project!
Follow this link to the Timber Jig YouTube video
Follow this link to the Logosol site
Components: Big Mill TimberJig
Log Diameter: Max. 60 cm (24")
The Logosol Timberjig turns your chainsaw into a portable sawmill!
Have you ever dreamed of being able to cut your own lumber, but not have the land or resources to do it? This little mill can have you cutting lumber quickly and simply. Like all Logosol products, this device features simplistic, rugged, and quality design.
First advantage is that it attaches to the same two bolts that hold the chain bar to the saw. No need to drill holes for the mill in the bar!
Second advantage is that in the box with the TimberJig, there are angle brackets and screws to build a straight wooden guide rail. This rail is only used for the first two cuts, to provide a flat surface.
From then on, the TimberJig rests on the adjustable guide fence that sets the thickness of the board.
For smaller logs, we recommend that you position the log in waist height to have a good operating position.
The TimberJig is a fully equipped hand-held sawmill with the option to upgrade!
A superior tool for milling lumber directly in the forest that offers the operator an abundance of upgrade possibilities.
We provide you with the major components and the sawmill plan needed to build your own home made sawmill. Before you begin sawing, you must build your own sawmill components in wood, namely the guide rail and the rail supports. Everything you will need to assemble the guide rail and rail supports is included in the TimberJig kit.
When we designed the TimberJig we decided to make it in aluminum and steel. The steel parts are treated with nitrous oxide during production. Steel that has been treated this way acquires a black color, offers increased corrosion-resistance, and becomes more durable and resistant to wear and tear. When compared to typical zinc plating, this process is more expensive, but we feel the resulting quality is both seen and felt.
The anodized aluminum, which possesses high durability and corrosion resistance, is used for the scale bail that fills the function of both handle and thickness scale.
| | | | |
| --- | --- | --- | --- |
| | | | |
| The wooden guide rail and guide rail holders are fastened to the log. Then, you take the first cut. | The guide rail is nailed to the sawn surface when you take the second cut. | The cant is cut out. Now, you only use the Timberjig. | The Timberjig slices up the cant into planks and boards. |