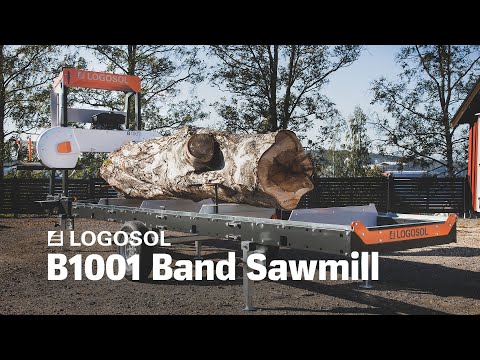 B1001 Band Sawmill with 12 kW Electric Motor.
The new generation of Band Sawmills with power and capacity
B1001 is the largest of Logosol´s Band Sawmills. The model is Swedish made and offers a revolutionary design. Logs up to 1001mm diameter can be processed on this sawmill. A unique height adjustment of the sawhead enables you to cut with precision every time.
Logosol B1001 is an extremely stable Band Sawmill that gives a high capacity. The sturdy rail is designed to be able to handle the weight of logs up to 1001mm in diameter with a good margin.
Technical data
Capacity
Max. log diameter: 1001 mm
Max. cutting width: 850 mm
Max. cutting length: 4850 mm
Min. thickness on the last board: 25 mm (1 inch)
Motor alternatives
Petrol engine: 23 hp
Electric motor: 12 kW, 3-phase, 400 V, 50 hz

Sawblades
Width: 33 mm
Rotational speed: 30 m/s

Bandwheels
Diameter: 500 mm
Maintenace free bearings
Integrated fan for cooling and effective cleaning of the cover.